Pengaruh Konten Viral #BoikotAice Di Media Sosial Twitter Terhadap Citra Perusahaan PT. Alpen Food Industry Pada Masyarakat Pinang Sebatang Timur Perawang
Keywords:
Twitter, #BoikotAice, Company Image
Abstract
The purpose of this study was to determine whether there is an effect of #BoikotAice viral content on Twitter social media on the corporate image of PT. Alpen Food Industry. The theory used is the stimulus-response (S-R) theory. The method used in this study is a quantitative method with an explanatory format. In the analysis of quantitative research methods using inferential statistical analysis. Researchers collected data using a questionnaire distributed in the village of Pinang Sebatang Timur RT004/RW006 Perawang to 60 respondents and the technique for determining the sample was using the purposive proportional random sampling technique with sampling using the Roescoe formula. To determine how much influence these two variables have, the researcher uses simple linear regression analysis. Processing of questionnaire test data using SPSS version 20. The results showed that the #Boikotaice Viral Content on Twitter social media had an influence on the corporate image of PT. Alpen Food Industry in Desa Pinang Sebatang Timur RT004/RW006 Perawang. The influence of the viral content of #BoikotAice on Twitter social media on the corporate image of PT. Alpen Food Industry is 24.6%, and 75.4% is influenced by other variables outside of this study.
References
Arikunto, Suharsimi. 2008. Prosedur Penelitian Suatu Pendekatan Praktik. Jakarta: Rineka Cipta.
Ardianto, Elvinaro. 2010. Metode Penelitian untuk Public Relation Kuantitatif dan Kualitatif. Bandung: Simbiosa Rekatama media.
Ardial. 2014. Paradigma dan Model Penelitian Komunikasi. Jakarta: PT Bumi Aksara.
Bambang, Dwi, Atmoko. 2012. Instagram Handbook Tips Fotografi Ponsel. Jakarta: Media Kita.
Budi R. 2010. Pengantar ilmu komunikasi. Makassar: Kretakupa.
Bungin, Burhan. 2011. Metodologi penelitian kuantitatif: Komunikasi, Ekonomi, dan Kebijakan Publik Serta Ilmu-Ilmu Sosial Lainnya. Jakarta: Kencana.
Effendy, Onong U. 2017. Ilmu komunikasi teori dan praktek Bandung: PT. Remaja Rosdakarya.
Ghozali, Imam, 2001, Aplikasi Analisis Multivariat dengan program SPSS. Badan Penerbit Universitas Diponegoro, Semarang.
Kaukab, Elfan. 2020. Public Relation. Wonosobo: Feb Unsiq.
Kriyantono, Rakhmat. 2010. Teknik Riset Komunikasi. Jakarta: Kencana.
Nasrullah, Rulli. 2016, Media Sosial Perspektif Komunikasi, Budaya, Sosioteknologi. Cet.kedua, Bandung: Simbiosa Rekatama Media
Mulyana, Dedy. 2016. Ilmu Komunikasi Suatu Pengantar. Bandung: Remaja Rosdakarya.
Rohim, Syaiful. 2009. Teori Komunikasi Perspektif, Ragam, & Aplikasi. Jakarta: Rineka Cipta.
Sanusi, Anwar. 2011. Metodologi Penelitian Bisnis. Jakarta Selatan: Salemba Empat.
Sunyoto, Danang. 2014. Konsep Dasar Riset Pemasaran & Perilaku Konsumen. Yogyakarta: CAPS.
Sugiyono, 2017. Metode Penelitian Bisnis (Pendekatan Kuantitatif, kualitatif, dan R&D), Bandung: Alfabeta
Silaen, Widiyono. 2013. Metode Penelitian Bisnis (Pendekatan Kuantitatif, Kualitatif dan R&D). Edisi 8. Bandung: Penerbit Alfabeta.
Silalahi, Ulber. 2012. Metode Penelitian Sosial. Bandung : Refika Aditama
Yusuf, Muri. 2014. Metode Penelitian. Edisi Pertama. Jakarta: Penerbit Kencana
Jurnal:
Agustine & Prasetyawati. 2020. "Pengaruh Kualitas Informasi Instagram Dan Electronic Word Of Mouth Tergadap Citra Dapurfit" Institut komunikasi dan bisnis LSPR. Jurnal Ilmiah, volume 5 no.1.
Darwis & Rizal. 2015. "Pengaruh Kualitas Informasi Facebook Terhadap Pembentukan Citra Positif Pemerintah Kota Padang (Studi Pada Media Social Facebook Humas Dan Protokol Kota Padang, September 2014 – Maret 2015)." Jurnal ilmiah, volume 6 no.2.
Nasiha. 2017. "Pengaruh Penggunaan Media Sosial Instagram Terhadap Citra Tubuh Mahasiswa Fakultas Ushuluddin Adab Dan Dakwah Lain Ponorogo Tahun 2016". UIN Sunan Kalijaga Yogyakarta. Jurnal ilmiah volume 15 no.2.
Kanaidi. 2010. "Pengaruh Customer Relationship, Citra Perusahaan, dan Customer Trust Terhadap Loyalitas, COMPETITIVE" Majalah Ilmiah, Volume 6 No.2. Desember 2010.
Sari, S.K. 2012. "Pengaruh Citra Perusahaan Terhadap Minat Konsumen (Evaluasi Penjualan Jasa Kamar Aston Karimun City hotel)". Jurnal Pemasaran.
Wu Shaomei, dkk. 2011. "Who Says What to Whom on Twitter". The International World Wide Web Conference Committee (IW3C2).
Wijaya, Y. F., Suparno, A., & Wibowo, A. (2022). Perancangan Sistem Informasi Penjualan Tabung Oksigen Pada Toko Pan Gas Gombong Berbasis Website. INCODING: Journal of Informatics and Computer Science Engineering, 2(2), 126-134.
Siagian, A. O., Lutfi, A. M., Ariyanto, A., & Wijoyo, H. (2022). The Effect of Islamic Corporate Governance Disclosure in Financial Performance Me-diation on Islamic Social Reporting. Jurnal Ilmu Manajemen & Ekonomika, 14(1), 1-8.
Handayani, W., Surono, Y., & Wijoyo, H. Smes sales performance: how the role of product innovation, entrepreneurship orientation, and competitive advantage?.
Hadiyati, E., Putra, R. S., Daud, I., Jihadi, M., & Wijoyo, H. Competitive advantage and marketing performance in smes: how the role of entrepreneurial and market orientation?.
Desmaryani, S., & Wijoyo, H. The Effect Of Self-Efficacy, Work Motivation On Job Satisfaction And Employee Performance: An Empirical Study On Palm Oil Company.
Shandy, A., Wijoyo, H., Haudi, H., Anggraini, N., & Sapiun, Z. (2021). Eduprenewship.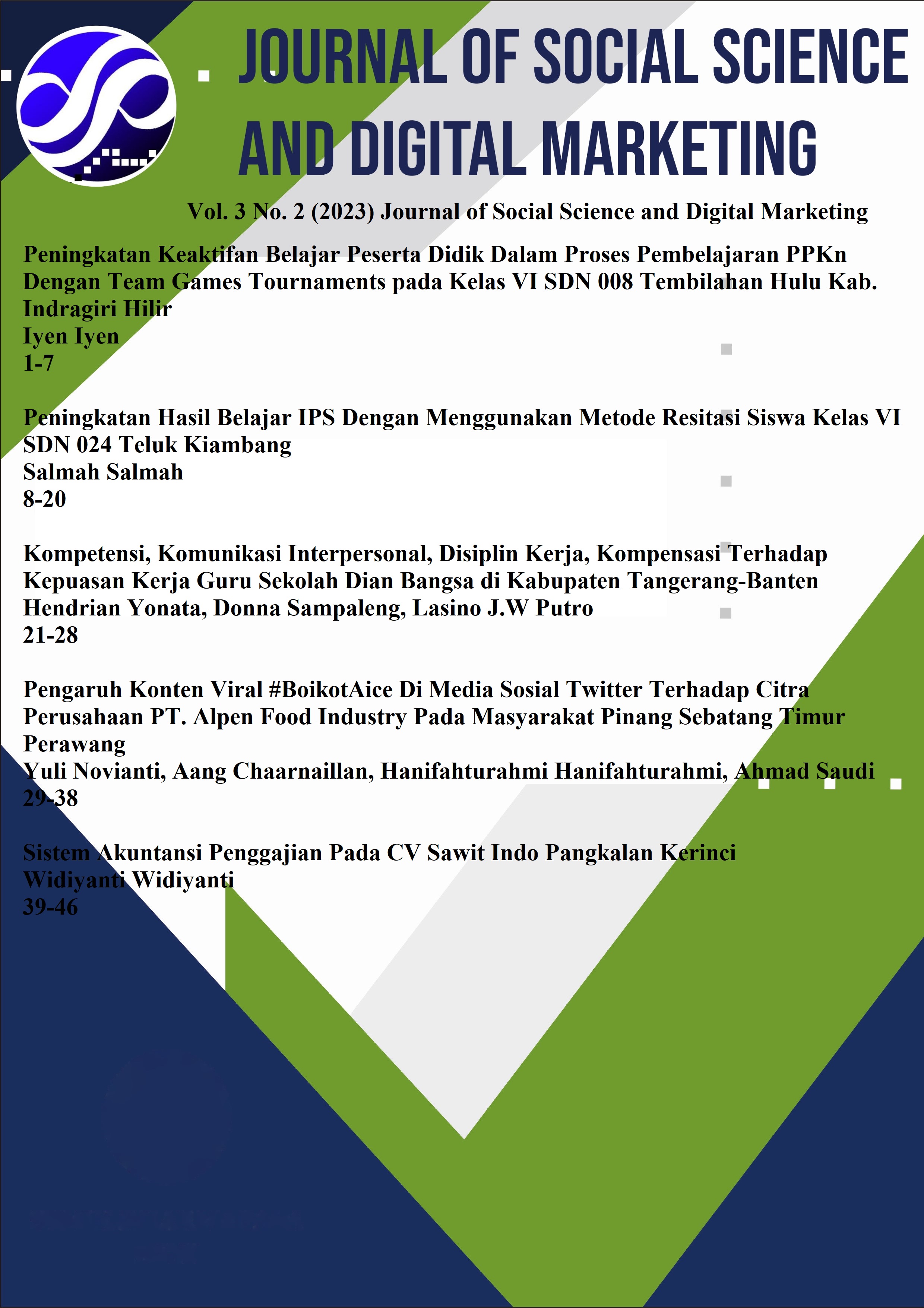 Downloads
License
Copyright (c) 2023 Yuli Novianti, Aang Chaarnaillan, Hanifahturahmi Hanifahturahmi, Ahmad Saudi
This work is licensed under a Creative Commons Attribution-ShareAlike 4.0 International License.