Peningkatan Keaktifan Belajar Peserta Didik Dalam Proses Pembelajaran PPKn Dengan Team Games Tournaments pada Kelas VI SDN 008 Tembilahan Hulu Kab. Indragiri Hilir
Keywords:
Keaktifan Belajar Peserta Didik, Pembelajaran PPKn, Team Games Tournaments
Abstract
Proses pembelajaran  dalam pelajaran PPKn, seharusnya dapat diselenggarakan secara interaktif, inspiratif, menyenangkan, menantang, memotivasi peserta didik untuk berpartisipasi aktif, serta memberikan ruang yang cukup bagi prakarsa, kreativitas, dan kemandirian sesuai dengan bakat, minat, dan perkembangan fisik serta psikologis peserta didik. Dengan menerapkan Team Games Tournaments dalam proses belajar mengajar untuk dapat meningkatkan Prestasi belajar siswa dengan Metode Team Games Tournaments akan memotivasi siswa untuk terus berprestasi. Dapat meningkatkan presentasi belajar PPKN siswa kelas VI SDN 008 Tembilahan Hulu hasil dari nilai prak siklus persentase ketuntasan belajar 6,6% dengan nilai rata-rata kelas 61,5 pada siklus 1 presentasi ke tuntunan belajar meningkatkan menjadi 33,3% dengan nilai rata-rata kelas 75,8 dan pada siklus 2 Presentasi ketuntasan belajar meningkat lagi menjadi 66,6% dengan nilai rata-rata kelas 85,15.
References
Pusat Pembinaan dan Pengembangan Bahasa. 1998. Kamus Besar Bahasa Indonesia. Jakarta: Perum Balai Pustaka.
Sudjana, Nana. 2005. Hasil dan Proses Belajar Mengajar. Bandung: Remaja Rosdakarya.
Diakses dari internet, blog Ulum tentang Curiculum Guiding Commite of the Winsconsin Cooperative Educational Program dalam Oemar Hamalik (2009: 20-21) tanggal 21 Agustus 2019.
Kurniasari. 2006. diakses dari internet abdulgofuroke pada tanggal 21 Agustus 2019.
Slavin. 2008. diakses dari internet, Ekocin blog pada tanggal 21 Agustus 2019.
Suarjana. 2000. diakses dari internet modelpembelajarankooperatifblogspot, tanggal 21 Agustus 2019.
Wijaya, Y. F., Suparno, A., & Wibowo, A. (2022). Perancangan Sistem Informasi Penjualan Tabung Oksigen Pada Toko Pan Gas Gombong Berbasis Website. INCODING: Journal of Informatics and Computer Science Engineering, 2(2), 126-134.
Siagian, A. O., Lutfi, A. M., Ariyanto, A., & Wijoyo, H. (2022). The Effect of Islamic Corporate Governance Disclosure in Financial Performance Me-diation on Islamic Social Reporting. Jurnal Ilmu Manajemen & Ekonomika, 14(1), 1-8.
Handayani, W., Surono, Y., & Wijoyo, H. Smes sales performance: how the role of product innovation, entrepreneurship orientation, and competitive advantage?.
Hadiyati, E., Putra, R. S., Daud, I., Jihadi, M., & Wijoyo, H. Competitive advantage and marketing performance in smes: how the role of entrepreneurial and market orientation?.
Desmaryani, S., & Wijoyo, H. The Effect Of Self-Efficacy, Work Motivation On Job Satisfaction And Employee Performance: An Empirical Study On Palm Oil Company.
Shandy, A., Wijoyo, H., Haudi, H., Anggraini, N., & Sapiun, Z. (2021). Eduprenewship.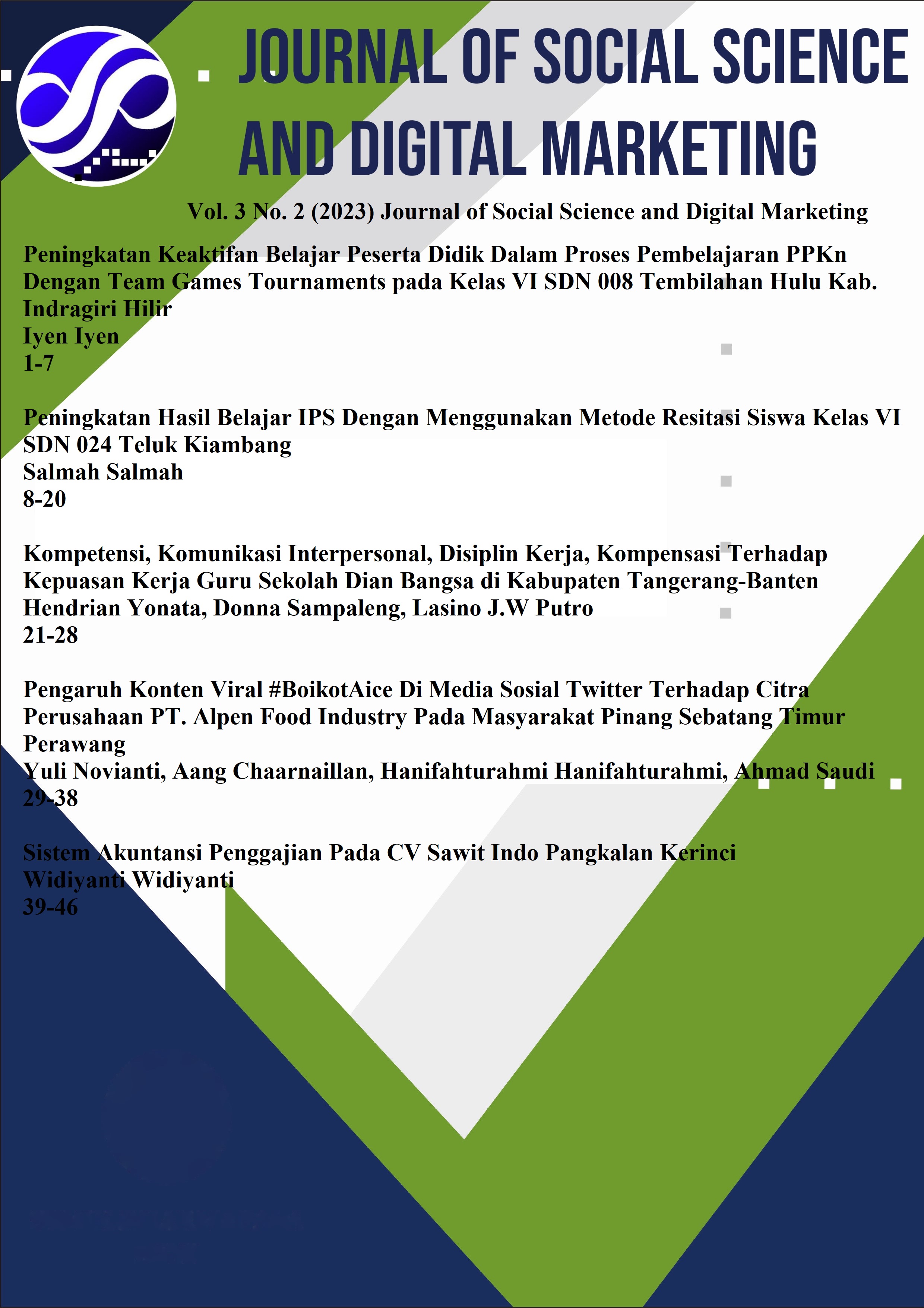 Downloads
License
This work is licensed under a Creative Commons Attribution-ShareAlike 4.0 International License.